CONASTA 69:  SCIENCE REVEALED
CONASTA is the annual science education conference of the Australian Science Teachers Association (ASTA). In 2021 CONASTA will be hosted by the Science Educators' Association of the Australian Capital Territory (SEAACT) and will be held from 26-29 September.
The CONASTA 69 theme of 'Science Revealed' has been chosen to inspire all educators to focus on the less obvious and most intriguing aspects of science and how this contributes to the broader body of scientific knowledge that supports breakthrough technologies. CONASTA 69 will also focus on the celebration and successes of science, particularly Australian science, and will explore the vital role of science in our future.
Registration will open SOON with our EARLY BIRD prices!
Meet the Conference Keynotes:
---
Register and attend the conference virtually or in person at St. Edmunds College and St. Clare's College:  
 26 – 29 September
CONASTA 69 is an in-person conference being held and co-delivered in two spacious and grand side-by-side colleges. The labs and gathering spaces are ideal for welcoming and supporting our large delegation to Canberra.  The conference venue is located within walking distance to the highly acclaimed Kingston precinct, known for its vibrant nightlife, prestigious hotels, and lakefront views.
All workshops and seminars will be delivered on-site, with over 100 course options to choose from over the 3-days.  As this is a hybrid conference, participants have the option to attend virtually and to use the conference app to network and connect with each other and the exhibitors.   All sessions will be recorded and made available for 90 days following the conference for all participants to view the courses you might have missed!
---
Register for the Pre-conference Workshop:  
Sunday, 26 September
---
Join us for our conference Welcome Function at Questacon:  
Sunday, 26 September
There is no better way to welcome our delegates to Canberra than being given full-access to Questacon – the National Science and Technology Centre. It is home to more than 200 interactive exhibits relating to science and technology. Their talented staff of science communicators and STEM specialists develop many engaging and inspiring science programs that are devoted to inspiring the children of Australia to love science.  Science Educators from across the nation are eager and excited to connect in-person once again and Questacon is always the perfect host and venue to kick off our opening happy hour.  We hope to see you there, finally!

---
Join us for our conference Banquet at Pialligo Winery Estates:
Monday, 27 September
Just minutes from Canberra CBD, Pialligo Estate is nestled in a private and peaceful setting. In addition to the beautiful vineyard, The Estate incorporates the Garden Pavilions Restaurant, an olive grove, orchard, market garden and an award-winning smokehouse.
Pialligo Estate's food is grown onsite or sourced from only the finest producers in the region and the multi award-winning Smokehouse products are incorporated to ensure an authentic Australian dining experience like no other.  Get ready to have the most exquisite dining experience, under the stars, against this spectacular backdrop.
---
Join us for our Science Breakfast at the National Arboretum:
Tuesday, 28 September
You may recognise the National Arboretum as the splendid backdrop to many of the country's prominent social and awards events, most recently, the Australian of the Year Awards.
The National Arboretum Canberra is a mosaic of living forests and gardens offering breathtaking views, unique experiences, and a world-class entertainment and events hub. With over 44,000 rare and endangered trees across a 250-hectare site, the Arboretum is a place of beauty, conservation, science research, education, tourism and recreation.  Associate Professor Cristopher Brack, from the Fenner School of Forestry, ANU, our breakfast keynote, uses the Arboretum as his playground to operate his drones and collect vital carbon data and to understand the role of trees in this process.  Don't miss out on your chance to take in the sunrise across this majestic horizon while enjoying your morning coffee!
---
Sign up to experience a 'behind the scenes' tour of one of our national science treasures: 
Tuesday, 28 September
---
Join us for the ASTA Awards & Stanhope Oration at the iconic Shine Dome:
Tuesday, 28 September
The iconic Shine Dome remains one of the most unusual buildings in Australia.  Inspired by Sputnik, it was completed in 1959 to be the new home for the Australian Academy of Science.  The Shine Dome hosts a range of premiere events that celebrate scientific excellence where outstanding achievements are honoured.  It is a most fitting venue to gather our conference participants to honor our ASTA Award recipients and the Stanhope Oration.  Don't miss your opportunity to experience this magical evening at the architectural winning Shine Dome, which continues to fascinate visitors to Canberra.
---
Visit and enjoy many of Canberra's attractions
Discover Australia's vibrant capital city, Canberra, which leads the country as the capital city with the most hours of sunlight. Soak up history and culture and enjoy exquisite culinary delights as it continues to attract award-winning chefs and young urbanites who enjoy fine food, wine and a relaxed lifestyle.  The elegant city of Canberra stands today with its grand avenues, stately buildings, galleries, monuments, lakes and waterways and open parklands, reflecting as it was designed to do, the entire nation of Australia. The conference coincides with Floriade, where colourful tulips are in full bloom, attracting Australians to enjoy the month-long garden festival and beautiful spring weather.
---
Stay at one of the conveniently and centrally located pre-booked hotels in the modern

Kingston Precinct

(details to follow)
The historic 1920s centre of Kingston in Canberra's inner south are hotspots for entertainment, dining, shopping and quality people watching. Couple this with the nearby Kingston Foreshore, Canberra's only urban waterside community and you'll see why this inner south hub is the perfect place to spend the afternoon and watch the day turn into night. Foodies will be spoilt for choice in Kingston, with the precinct home to some of the most popular spots in Canberra for bite to eat, a place to sleep or a special night out.  There are a large range of modern high quality hotels only a walk away from the conference venue.  More details on how to book a hotel will be made available soon.
---
Sponsors and exhibitors will be able to connect with delegates and have wide exposure through our exhibit hall and virtual conference platforms.  
The prospectus will be available soon.
Please feel free to register your interest with us and we will ensure that you get your copy emailed to you.
---
Cindy Lee Chambers Bursary open to

SEAACT Members ONLY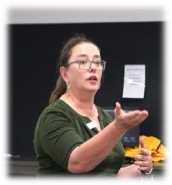 Applications are NOW open for an Individual SEAACT member to attend CONASTA 69 in Canberra in 2021.  Visit our bursary page.
Not a SEAACT Member yet?  Join now.