Cindy Lee Chambers Bursary
Applications for the Cindy L. Chambers Bursary.
SEAACT will provide ONE MEMBER  complimentary registration to attend the CONASTA 70 in Canberra up to a value of $500. The applicant must be a full individual member of the Science Educators' Association of the ACT in 2020.
Applications are NOW open. 
Criteria
The applicant must be apply to provide a brief statement of no more than 500 words in support of his/her application.  The statement will:
• identify the aspect of your current practice that you want to improve;
• explain how you think attending this event will improve your practice;
• explain how you will share your learning, apart from providing the report mentioned below.
A professional colleague will be contacted to support your application.
Successful Applicants
All applications will be read and assessed by a panel of 3 assessors determined by SEAACT council. At least one panelist will be a member of SEAACT Council and a member of SEAACT Council will chair the team of assessors. The successful applicants will be those assessed by the panel to best meet the above criteria. The panel's decision will be final and no appeal will be considered.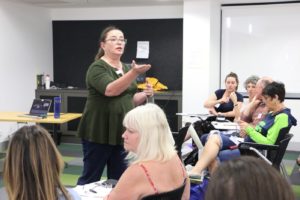 Background
On 12 May 2018, SEAACT lost both a friend and one of the greatest STEM educational ambassadors. Cindy had served on council over a stretch of 20+ years and was the Officer responsible for professional learning programs. Her impact was widely felt and appreciated as SEAACT's conferences were all well planned, managed and executed because of Cindy's attention to detail and level of expertise. Cindy was strongly committed to providing opportunities for teachers to grow in their science knowledge and practice. She not only shaped how the conferences operated, but often offered her own workshops to share her expertise and knowledge in the pedagogy of teaching science. Cindy was extremely talented in making science accessible and engaging for all the participants. What was most remarkable though was her generous spirit, her humble and altruistic nature, and her sincere commitment to the professional development of teachers. SEAACT will be forever grateful and better because of Cindy's involvement in our association.